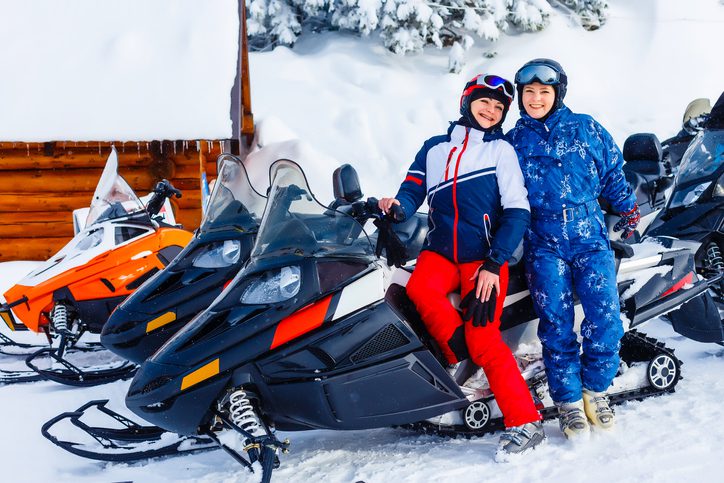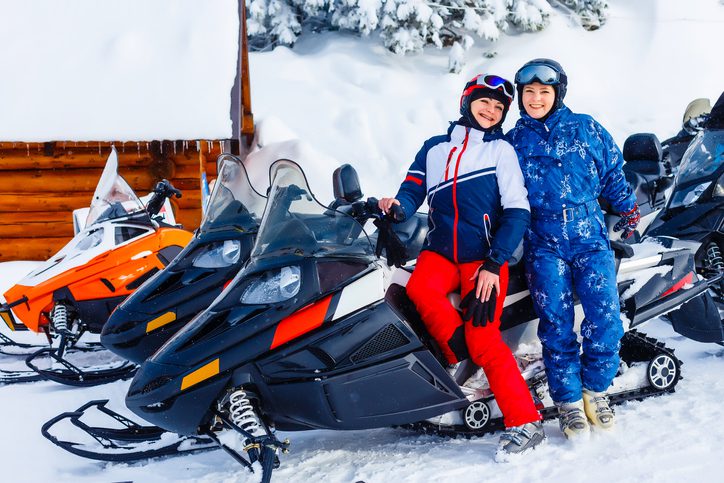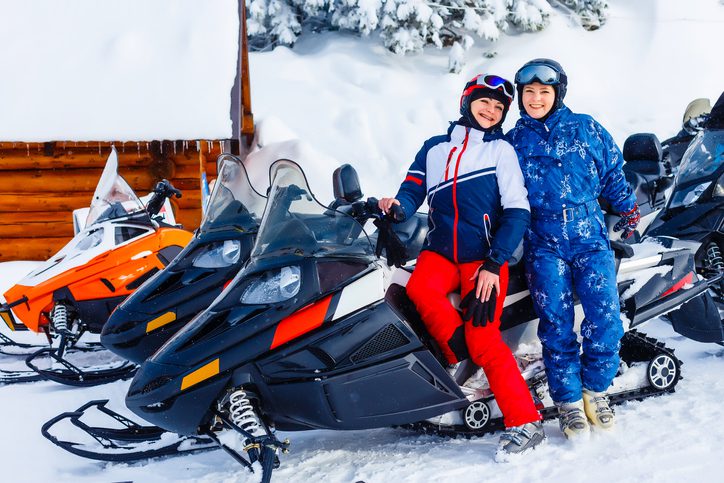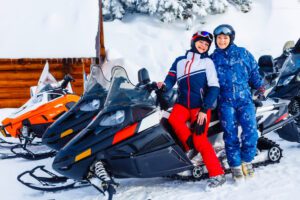 John and Jane have just purchased new snowmobiles. As they plan weekend trips into the white wonderland of Northern Michigan, they envision fun riding the many groomed trails with friends. Jane looked forward to visiting their favorite restaurants and viewing frozen waterfalls. Feeling the fresh cold air on their face as they gather around a bonfire to warm up a bit as they laugh and enjoy the company of others. Making new friends and deepening relationships with existing ones as they go.
Together they have spent many hours researching suitable sleds and learning about the different makes and models. The features of each and the many options making for comfortable days on the trail. Learning about clothing to keep them warm, helmets, boots, and gloves for safety and protection.
As John and Jane were getting ready to finalize their purchase, the snowmobile dealer asked who they were purchasing their snowmobile insurance from so he could transfer the needed information to the agent and get that set for them? Insurance on snowmobiles was something they had not given much thought to. So John's next call was to their insurance agent, Sam. Sam listened to their excitement about the new purchases and how they planned to spend time together outdoors this winter enjoying the snow.
Sam was helpful in giving them some things to think about as John and Jane wondered about snowmobile insurance costs. He explained there are basically three elements of coverage to be concerned about.
Liability protection
Physical damage on each snowmobile and trailer
and accessory coverage
Liability coverage is needed if the damage is caused to someone else's property or injury to another person. For example, Sam explained he had seen stuck throttles on sleds, and as a result, the neighbor's house was damaged. As well as accidents while riding causing injury to another person. Sam also explained this coverage is usually inexpensive and should be purchased in amounts equal to their home and auto insurance liability limits.
Physical damage coverage is usually purchased in amounts equal to the purchase price of each snowmobile. One way to keep the cost down is to select higher deductibles. Physical damage covers such things as a loss by collision, theft, fire, collapse of buildings, etc. Sam also asked about the trailer to transport the snowmobiles; this would need to be added to the policy.
Accessories coverage serves two purposes, protection from loss for options added to the sleds and clothing, helmets, gloves, etc. These values can add up quickly.
Sam explained there were basically two methods to purchase snowmobile insurance coverage. Each method has its own pluses and minuses.
The first method is from a stand-alone company; this would be a company other than their homeowners insurance or auto insurance company. The advantages of going this route include the following:
A separate layer of Liability protection is provided specifically for snowmobiling activities.
If a loss occurs, the other insurance coverages, such as home and auto, are not affected. Therefore, loss-free discounts on their Home and Auto insurance policies would remain.
Optional coverages offered are usually more robust. Such as OEM Parts replacement, recovery expenses, or replacement rental coverage.
The cost of these policies is often higher and can be purchased from an agent or online.
This makes for one additional bill to keep track of.
The second method is bundling snowmobile insurance with their home insurance policy. The advantage of buying insurance coverage with this method is:
The billing combines your home insurance policy and simplifies the payment process.
Often, this method is less expensive. Partly because the liability cost is a small endorsement charge to the home insurance policy.
Clothing, helmets, gloves, etc., are covered as a part of the home contents coverage, saving on insurance costs. Options added to the sleds would still need to be added as scheduled items.
If the amount of liability protection is a concern, an umbrella policy can be purchased. See an explanation of Umbrella liability here.
Sam indicated he would need some information to put a quote together. Such as the make, model, serial number, and financing information. Sam also indicated that driving records, prior losses, and insurance scores influence insurance costs on a snowmobile. While most people want to get the cheapest snowmobile insurance possible, Sam said he would present an insurance quote with his best insurance recommendations and options so they could tailor the coverage and cost to their preference.
John and Jane were happy with Sam's recommendations. John and Jane struck a balance, accepting some suggestions and choosing not to take all recommendations to save insurance costs. John and Jane enjoyed the winter of snowmobiling with peace of mind if a loss occurred; they were protected and were happy they had a conversation with their agent, Sam.
What about you? Do you have an insurance question or desire an insurance quote? More information can be found here.
Disclaimers – The concepts and ideas expressed are for educational purposes only. In all cases your specific insurance needs should be reviewed with your insurance agent.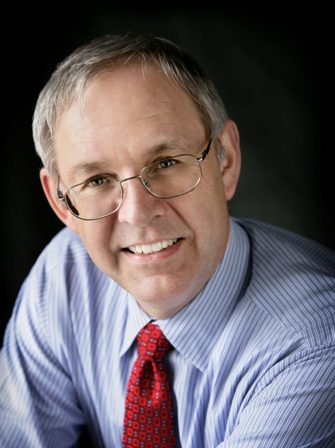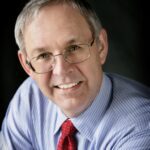 For questions or discussion of these concepts contact Marcus Wegmeyer, an insurance agency owner, at Michigan Insurance Services Agency. E-mail marcus@mi-insurance.com or by phone at (989) 732-7548 ext 4.